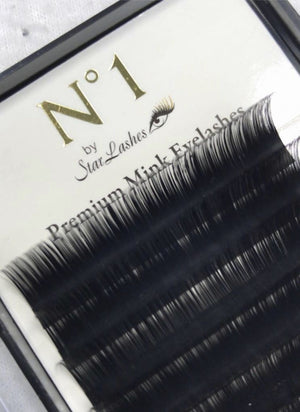 Star Lashes World
Volume Lash Trays - SILK
Reduced price Price $17.00 Regular price Unit price / through
THINNER BUT BLACKER EXTENSIONS FOR MAXIMUM VOLUME AND COMFORT!
High quality eyelash extensions, made with premium quality fibers, black, Ultra light.
Qualities of silk extensions:
- Jet black color, beautiful shine for an intense effect.
- Ultra light, silky, for maximum comfort.
- Pretty curve, well accentuated to open the eyes.
- Soft and resistant to heat and humidity.
- Extension fixed on a very high quality adhesive tape, facilitates the creation of bouquets.
- Quickly absorbs glue, therefore allows better adhesion.
- Easy, fast and stable application.

- Vegan

- Latex free

- Not tested on animals

- Formaldehyde free

-All our Star Lashes World are made from premium sterilized PBT materials.

-Incredibly flexible.

-Double heat for rock-solid hold and hold.

-Box of 16 rows with more than 4000 eyelashes per box.