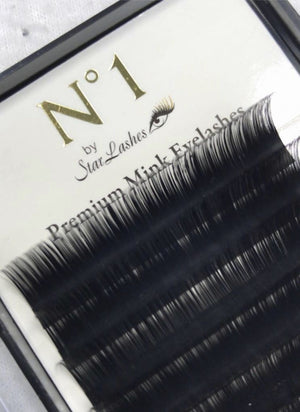 Star Lashes World
Russian Volume Lash Tray - MINK
Reduced price Price $19.00 Regular price Unit price / through
SOFT EXTENSIONS LIKE REAL FUR FOR A SOFT AND NATURAL AND SOPHISTICATED LOOK.
These high quality eyelash extensions are made of synthetic mink, matte black, lightweight.
Extension qualities in Mink :
- Made of hypoallergenic synthetic mink (PBT).
- Natural matte black color, and flexible.
- Contoured base thicker than the tip to accentuate the intensity of the gaze.
- Natural curvature.
- Their porous finish allows them to quickly absorb glue,
resulting in better grip.
- Easy, fast and stable application.

- Vegan

- Latex free

- Not tested on animals

- Formaldehyde free

All our Star Lashes World eyelashes are made from premium sterilized PBT materials.

Incredibly flexible.

Double heat for rock-solid hold and hold.
16 row case with more of 4000 eyelashes per box.